Curadora de Imaturos de Coleoptera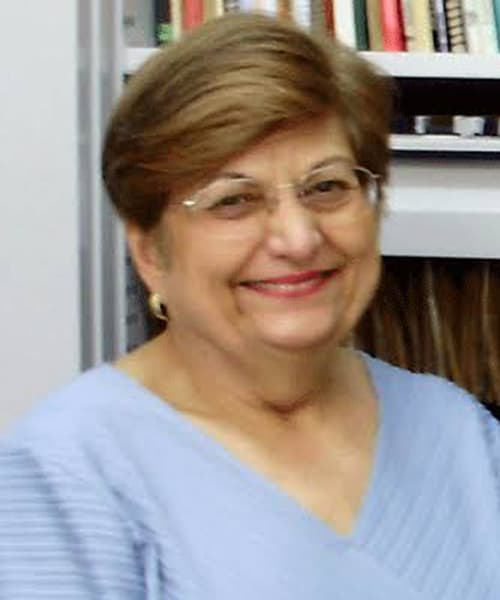 Avenida Nazaré, 481 Ipiranga
04263-000 São Paulo, SP, BRASIL
Entomologista, especialista em sistemática, bionomia e metamorfose de Coleoptera; pesquisadora e docente do Museu de Zoologia da Universidade de São Paulo, USP, onde ainda trabalha e orienta alunos mesmo após sua aposentadoria. Possui graduação em História Natural pela Universidade Estadual Paulista Júlio de Mesquita Filho, São Paulo e Doutorado em Zoologia pela Universidade de São Paulo. No Museu de Zoologia exerceu a chefia da Entomologia por diversos períodos. Como docente ministrou a disciplina "Metamorfose de Insetos" em vários cursos de pós–graduação. Atuou na rede Cyted PrIBES (Projeto Ibero-americano de Biogeografia e Entomologia Sistemática), de 1999 a 2002. Participou ativamente como coordenadora adjunta, e como membro fundador (2003 – 2006) da organização e implantação da Red CYTED XII.I. RIBES (Rede Ibero-americana de Entomologia Sistemática), juntamente com J. H. Llorente (UNAM-México). Foi membro fundador da Red XII: L "Red Iberoamericana para la Conservación e Informatización de Colecciones Biológicas – Sistemas de Información", coordenada por E. Romero, (MACN Bernardino Rivadavia-Buenos Aires) (2004-2008). É sócia fundadora da AMNAT – Associação Memória Naturalis: Cidadania, Ciência & Cultura, (2002-2008) onde atuou na articulação da Associação com as redes sobre biodiversidade e coleções biológicas do Cyted na América Latina. É sócia honorária da Sociedade Brasileira sobre vetores e pragas sinantrópicas desde 2002.
Sistemática, Bionomia e Metamorfose de Coleoptera.
Costa C., Vanin, S. A., Rosa, S. P. & Ferreira, V.: "Neotropical Immature Beetles". Trata-se de livro sobre imaturos de coleópteros da região Neotropical cuja previsão de termino é 2020.
Ferreira, V. de S. & Costa, C. 2015. A Description of the Larva of Metapteron xanthomelas (Lucas, 1857) from the Restinga Forest of Southeastern Brazil (Coleoptera: Lycidae, Calopterini). Zootaxa 3915 (2): 295–300.
Costa, C. ,Vanin, S. A. & Rosa, S. P. 2014. Description of a new genus and species of Cerophytidae (Coleoptera: Elateroidea) from Africa with a cladistic analysis of the family. Zootaxa 3878 (3): 248–260.
Rosa, Simone P. and Costa, C. 2013. Description of the larva of Alampoides alychnus (Kirsch, 1873), the first known species with bioluminescent immatures in Euplinthini (Elateridae, Agrypninae). Papeis Avulsos de Zoologia 53(22):301?307.
Costa, C. & S. A. Vanin. 2012. Descriptions of Macrolygistopterus subparallelus Pic, 1930 immatures from southeastern Brazil (Coleoptera, Lycidae, Lycinae, Calochromini). Zootaxa 3403: 54–60.
Costa, C.; S. A. Vanin & T. R. Carvalho. 2011. A new Brazilian species of LoxandrusLeConte, 1852, with description of immatures and notes on natural history (Coleoptera: Carabidae: Loxandrini). Zootaxa 2745: 30-42.
Costa, C. & S. A. Vanin. 2010. Coleoptera Larval Fauna Associated with Termite Nests (Isoptera) with Emphasis on the Bioluminescent Termite Nests from Central Brazil. Psyche: A Journal of Entomology 2010: 1-13.
Costa, C.; S. P. Rosa & J. Chassain. 2009. A taxonomic revision and revalidation of Nycterilampus Montrouzier (Coleoptera: Elateridae, Agrypninae). Zootaxa 2017: 47–57.
Girard, C.; C. Costa & S. P. Rosa. 2007. Présence insolite de larves et de nymphes de Tetralobus (Coleoptera:Elateridae), dans des termitières mortes de Macrotermes (Isoptera): données sur la morphologie et la bionomie de larves et de nymphes de trois espèces. Annales de la Société Entomologique de France 43: 49 – 56.